Select Or Create Your Own
Mosaic Art Patterns
There are mosaic art patterns for just about everything. Borders, medallions, suns, compass roses animals, flowers and more...

Go ahead and browse the specific pattern pages. Remember to return often as the selection will grow with time.

If you find one you like just click on the image to download the pattern.

This beautiful compass rose mosaic has within it the 4 elements of nature as well as a compass rose.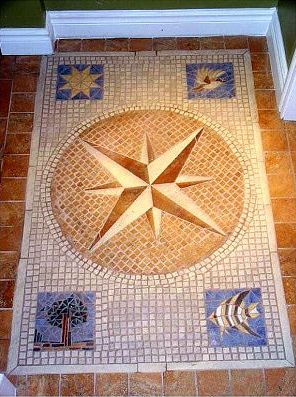 The four elements of nature are, earth, wind, water and fire.
Remember that these patterns can easily be resized, just let me know using the contact us page. I will gladly resize it for you for a very reasonable rate.
If you would like to create your own mosaic pattern it can be easy. Most medallions have a star or circle in the center, the rest is just filling in around until you reach the edge.
My best ideas often happen while I'm doing something else, like when I'm bored at work or while I'm on the phone, I frequently find myself drawing. Then, after I sketched it out on paper, I redo it on the drawing table with all the sizes and angles of all the pieces.
Again, do not worry about little mistakes and blemishes, that's what makes it look unique and interesting.
If you want to start simple, make a small mosaic. A children's coloring book is a good place for mosaic patterns. Most of these pictures are detailed enough to see its representation yet simple enough to easily reproduce it in a mosaic.
You can also find other great free patterns for stained glass here that you can use for your mosaics.
Once you've selected or created your patterns, the next step is selecting your material or tesserae.
---
Return to Previous Page from Mosaic Art Patterns
Return to Making Mosaics Home Page