Making Mosaics Blog
The Making Mosaics Blog is where I keep my readers up to date on new Mosaic News. It...
will let you know when I change or add new pages on Making Mosaics.com
will keep you up-to-date with the latest news or other postings about Mosaic Making
will let you know when I send out the Making Mosaics E-zine (in case you don't like to give your e-mail address, or if your internet service provider tends to over-filter causing you to miss an issue).
To subscribe to my Mosaic blog; no e-mail address necessary, right-click on the orange RSS button here on the right and then copy-and-paste the URL of this site's RSS feed into your RSS reader. OR...
Just click on the Google, My Yahoo!, My MSN, or Bloglines button if you keep a personalized home page there. Follow their instructions.
Would You Like To Be Part Of This Blog?
Become part of the Making Mosaics Blog! Simply send me your latest mosaic by clicking here! Your mosaic will then become part of this blog and a permanent part of Making-Mosaics.com for others to admire!
New contest! From now until April 20, 2011 for every entry added and accepted in the Gallery page you receive one chance at winning a 50$ gift certificate towards the purchase of any handmade ceramic tiles in my new shop section!
My brother-in-law 's Kombi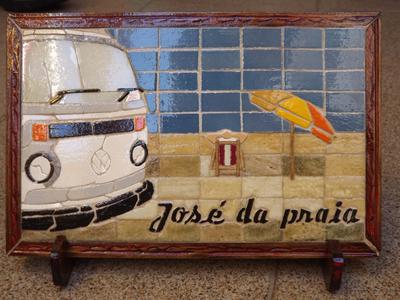 I did this mosaic to present it to my brother-in-law who loves beach and also his Komb
---
Return to Previous Page from Mosaic Blog
Return to Making Mosaics Home Page
---