Handmade squigglie wave tiles
Click image to see detailed picture and make your selection.



Whale and Waves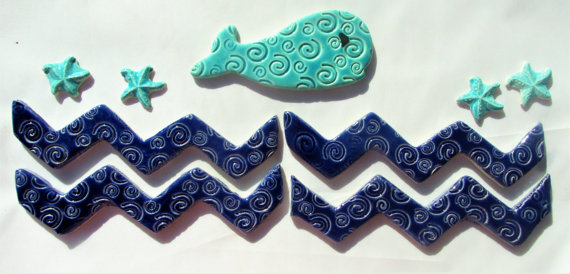 Set of handmade ceramic ocean life tiles $ 10.55 USD
Set of 6 glossy turquoise waves tiles or 4 cobalt blue waves and 1 baby blue whale.
A beautiful set of carribbean blue whale & waves with cobalt blue starfish tiles, or a set of 6 glossy turquoise waves tiles.
These have been made out of wet clay then painted, glazed, and fired in a kiln twice which makes them strong and waterproof. They are flat on the back for easy attachment to any project.
Please refer to picture with ruller as a guide for the size.
Keep in mind that these were all handmade and there may be slight differences.

---
Return to Previous Page From Wave Tiles
Return to Making Mosaics Home Page
---