Abstract Mosaic Vase (the otherside)
by Carl Schraefel
(Saudi Arabia)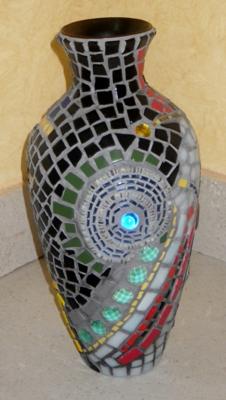 I am posting another view of my abstract mosaic vase for those that were interested.
I am mainly a mixed media and collage artist so I like to experiment combining different mediums.
This mosaic abstract vase was mainly experimental. I used as many different types of materials as I could manage just to see how they would work in terms of application and effect afterwards.
I learnt alot from doing this and expect to improve on what looked good and what didn't work so well.
I discovered mosaic quite by accident taking my first workshop with a friend last summer. It is the perfect extension to my work in collage and mixed media.
I prefer working on 3-d objects because it is challenging and I like the sculptural feel.
Eventually would like to create my own 3-d objects in clay to use as a foundation- all in good time!
Thanks for commenting.

Click here to read or post comments
Join in and write your own page! It's easy to do. How? Simply click here to return to Mosaic Photo Gallery.
---
Return to Making Mosaics Home Page
---