Dragonfly and Lilypad Concrete Stepping Stone
by Nan
(USA)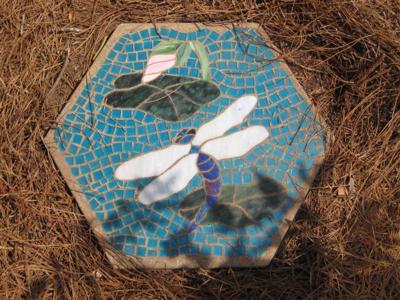 Dragonfly and Lilypad Concrete Stepping Stone
I first started stained glass back in '95, but life got the better of me and working in glass was set on the back burner for the last 12 or 13 years.
I am just now rekindling my passion for glass.
The dragonfly's body and wings are made of iridescent glass, while the lily pads are made from opaque glass and the water is made from cathedral glass.
I envision a series of water-themed mosaic stepping stones in my garden.
Click here to read or post comments
Join in and write your own page! It's easy to do. How? Simply click here to return to Mosaic Photo Gallery.
---
Return to Making Mosaics Home Page
---