Flower Garden Mosaic Candleholder or Vase - Ali's Mosaics
by Alicia
(Miami, FL)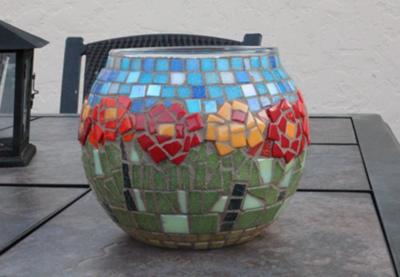 Flower Garden Mosaic Candleholder or Vase
Hi, I'm Alicia! I make lovely mosaic glass candleholders and vases of various shapes and sizes.

I have always been very artistic since I was very young growing up in the Caribbean. In addition to taking art classes as part of my school curriculum, I took art classes as an an extracurricular activity in my teenage years. Those classes, however, focused on drawing and painting, especially portraits and still life.

I currently work in the mathematical science field, but I always try to find ways to release my creativity. Creating mosaic candleholders and vases definitely does the trick!

Now I'm making so many so my hobby has become a business!


Click here to read or post comments
Join in and write your own page! It's easy to do. How? Simply click here to return to Mosaic Photo Gallery.
---
Return to Making Mosaics Home Page
---