Froggie/Ladybug
by Laurie
(Everett, WA, USA)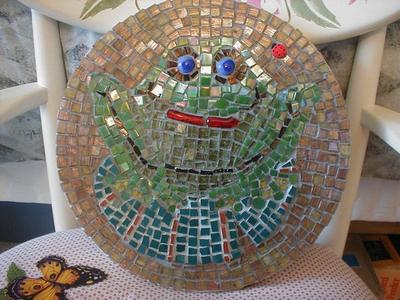 Froggie/Ladybug
I used glass mosaic backsplash tiles, cut into quarters, regular bathroom tile, beads for the eyes and a ladybug button.
I found a cute b/w picture and took some of my idea from that :)
His mouth is a long piece of glass but I think I should have cut it into smaller pieces but I sold this for $100.00 which was a shocker.
Join in and write your own page! It's easy to do. How? Simply click here to return to Mosaic Photo Gallery.
---
Return to Making Mosaics Home Page
---