JERUSALEM
by Hayim Granot
(Petah Tikva, Israel)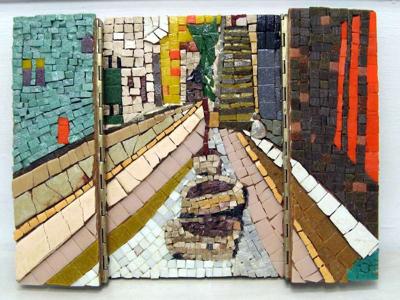 Jerusalem Triptych Jaffa Gate, open
This triptych shows the Jaffa gate when opened a street in the Jewish Quarter. Living in Israel, every visit to Jerusalem is magical.

I made it for the grandchildren to open and close while enjoying the depth and perspective. Tile two surfaces required building sides of 35 cm so the flaps would close (my wife's suggestion)

The work is stone, glass and ceramic on wood with metal piano hinges. 30 x 22cm closed, 30 x 40cm open.


Click here to read or post comments
Join in and write your own page! It's easy to do. How? Simply click here to return to Mosaic Photo Gallery.
---
Return to Making Mosaics Home Page
---