Mosaic wooden clock box
by Doreen Bell
(Kildeer, Illinois)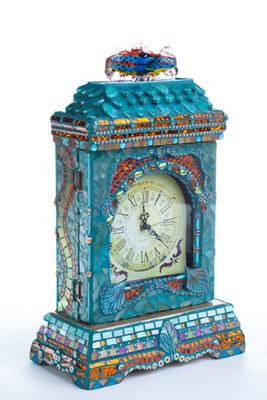 Mosaic wooden clock box, front view
I've been doing mosaic for the past I think now for 14 years mostly self taught other then the little beginner class I took in a little town near my home.
I was down in the dumps and was taking my dogs for a walk when I came upon a new shop called "Artist @ Heart"-GEE - I thought " THAT"S ME", so I walked in and saw a looong desk that was all mosaic and said out loud (I'm not shy)" I want to learn how to do that"!!
The owner Lori, said "your in luck, I have a class that starts tonight". Well, the rest is history. I now do commissions, and teach it in my home studio up on the 3rd floor of attic space that has been finished to an awesome studio I call " Stairway to Heaven" I even have huge skylight windows that open to the heavens above- So you see the skies the limit!
Click here to read or post comments
Join in and write your own page! It's easy to do. How? Simply click here to return to Mosaic Photo Gallery.
---
Return to Making Mosaics Home Page
---