"Naughty Librarian" A Hand held Mirror
by Doreen Bell
(Kildeer, Illinois)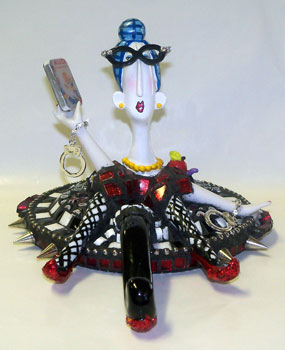 "Naughty Librarian" A Hand held Mirror
I made this as a trade with a Fantastic Polymer Clay artist named Alice Stroppel.
I saw her creations on Flickr and then became a contact of hers.
I had asked her if she could make me 5 ladies with silly faces for a mosaic I had an idea for.
She asked me if I would be interested in doing a trade with her in exchange for something from me.
I agreed and this is the outcome.
I used a silver plated small plate I found at Goodwill, and cut a 5 inch circle mirror from mirror I was given from a neighbor who was remodelling her bathroom (I have tons of mirror now). My friend who replaces glass as a business cut me all kinds of sizes and shapes for future use. A doll head, arms and legs from other dolls I have collected (love body parts). A handle from a large ceramic coffee mug. Glitter tiles, spikes, ballchain, millefiori, rhinestones from old jewelry, ceramic tile, a small piece of wood and picture of "Alice in Wonderland" book, oh and handcuff earrings hehehe!

Click here to read or post comments
Join in and write your own page! It's easy to do. How? Simply click here to return to Mosaic Photo Gallery.
---
Return to Making Mosaics Home Page
---